The sixth annual Cannabis World Congress & Business Expo returns to the Los Angeles Convention Center for a three-day event from September 26-28, 2019. This expo, a business to business event centered around legalized cannabis, takes place in three major cities in the United States – Los Angeles, Boston and New York – each year.
Hosted in South Hall H of the Los Angeles Convention Center, guests will be in the heart of the downtown area. There will be plenty for guests to do and see during their limited downtime. Los Angeles is the largest hub for media in the nation and the Cannabis World Congress & Business Expo pushes for equal levels of passion and growth when approaching the cannabis industry.
This expo brings together individuals from diverse fields who have a passion for the cannabis industry, including business owners, lawmakers, medical professionals, entrepreneurs and investors. Promising a great ROI for guests, the three-day event will include speakers, workshops, exhibits and networking opportunities.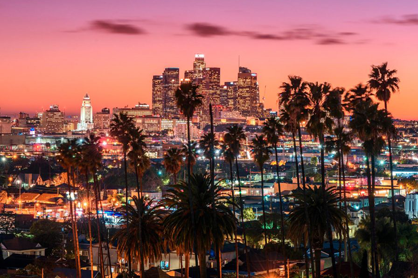 With 100+ speakers and 125+ exhibitors, this expo is one of the best ways to learn from other professionals about the challenges and developments facing cannabis businesses as the industry continues to take shape. Starting off the Expo will be an Industry Update from Claire Kaufmann, Director of Client Services of the Brightfield Group, which will discuss changes in policy, market dynamics and projected industry growth. Following the update will be the Keynote Address, given by CEO of Harvest Inc., Steve White.
From there, the Expo will be packed with more fantastic speakers, as well as four workshops. This starts with a workshop on breaking into the cannabis industry, presented by Clover Leaf Academy. Kahner Global will host "Cannabis Investing 101," while the National Hemp Association will hold a workshop covering the Hemp industry. Finally, Cloneville will finish out the Expo with a workshop for business owners hoping to make it to the next level.
Ideal attendees will either represent some portion of the cannabis industry, be interested in breaking into the cannabis industry, be willing to provide professional services or be hoping to invest in the cannabis industry in some way. This will allow everyone to make the most of the networking opportunities available at the Expo. Networking can be initiated through the official events organized by the Cannabis World Congress & Business Expo, such as an Industry Party or a Networking Mixer, but guests are also encouraged to network while attending Workshops or exploring the Exhibition Hall.
For those arriving early or staying late, there will be additional events available through Cannabis Week, also hosted by the Cannabis World Congress & Business Expo. This six-day event, from September 23-28, is designed to bring people from all ends of the cannabis industry together for unparalleled learning and networking. Guests can expect to find new products, business opportunities and restaurant deals. Furthermore, this additional event will provide wellness events, networking opportunities and workshops.
The expo has also garnered a number of high-powered sponsors. The diamond sponsor, Freed, is a prominent CBD company known for promoting healthy living. Other big sponsors include Marcum LLP, an accounting group, Zuber Lawler, a global law firm, and CCELL, known for its disruptive vaping technology. These and other sponsors have come together to help make CWCBExpo a useful and memorable occasion and will be some of the displays featured in the exhibition room.
The Cannabis World Congress & Business Expo will be the place to be if you're a professional involved in the cannabis industry. From its top-notch speakers from dozens of fields to its carefully planned workshops and networking events, attendees should expect to leave the Expo with a greater understanding of how this industry is expecting to grow and change in the future and top notch professional connections. Act now to secure a discounted spot at the 2019 Los Angeles Cannabis World Congress & Business Expo!
Cannabis World Congress & Business Expo
September 26-28, 2019
Los Angeles, California
CONFERENCE REGISTRATION
---
Conference Highlights
The expo is at the forefront of the business to business cannabis industry, devoted to helping guests make meaningful connections and grow their businesses.
Set to take place September 26-28, 2019, in the Los Angeles Convention Center in Los Angeles, California.
A schedule featuring over 100 speakers, each experts in their respective fields.
Additional events are available during the ongoing Cannabis Week, which will run from September 23-28, 2019.
The list of exhibitors is 150+ and still growing, featuring a wide range of businesses in the cannabis industry.
Several workshops, headed up by some of the industry's finest, will be provided throughout the conference.
There will be multiple scheduled networking events provided throughout the conference so guests can connect with a variety of industry professionals.