Now onto their 5th summit, the New West Summit is the premiere place to learn about cannabis technology. This event will span two days, October 10-11, and brings together 50 exhibitors and over 100 speakers to explore the future of cannabis. The conference will take place in the beautiful city of San Francisco, California.
This year, New West Summit is proud to announce a brand new location: the Bespoke Event Center. Tucked away in San Francisco's Financial District, this gorgeous building will be the perfect backdrop for the event. The Bespoke Event center boasts elegant architecture and a central location, so guests will never be far from the action.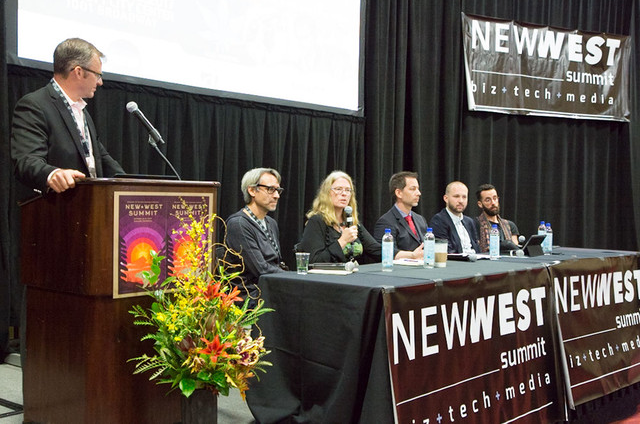 New West Summit is interested in the intersection of disciplines, bringing together some of the brightest minds in the cannabis industry. This includes thought leaders, entrepreneurs, investors, creators and developers, all of which will share their experience and insight with guests.
So far, New West Summit has 13 keynote presenters and counting. Speakers will include Jay Faires, Founder of the Wellness Agency; Paul Rosen, CEO and co-founder of Pantry Food Co.; Ophelia Chong, community activist; and Paul D. Miller, composer and multimedia artist. These and other speakers will provide an insightful and broad view of the global cannabis industry.
The event begins bright and early at 9:30 AM with opening remarks and a leadership meditation, setting the tone for this unique event. Speeches run until 5:00 PM, covering everything from disruptive technology to cannabis advertising. Thursday will culminate in a keynote address by Alicia Silverstone, NYT Bestselling author.
Guests can also opt to attend the Leafwire Pitch Slam, a high-energy event with cash awards on the line. Cannabis start-ups compete on stage to pitch to cannabis professionals! It's sure to be an exciting evening. The Pitch Slam is sponsored by Leafwire, one of the best ways to network in the cannabis industry.
Friday, October 11, will also hit the ground running with leadership meditation and speeches, culminating in two exciting keynote addresses! Although these speakers have yet to be announced, it's certain they will be incredible experts in their field.
Of course, New West Summit wants to play as hard as they work, so there will be time to unwind! Kick the fun off on Thursday night with NWS5's official After Party! Sponsored by Eaze, the number one legal cannabis delivery platform, this party will start with an awards ceremony. Honoring those who have helped push the cannabis industry forward, this ceremony is for not only the big companies but the little guys who work tirelessly behind the scenes. The After Party will also include a concert hosted by none other than MediaJel, a data driven digital advertising company!
New West Summit will conclude memorably, with the Official NWS5 VIP Party on the Rooftop! Enjoy food, drinks, incredible views of San Francisco and, most importantly, the company of fellow cannabis professionals! New West Summit offers the perfect opportunity to network with experts from a variety of disciplines, ranging from media to technology.
Of course, New West Summit hasn't just brought together the best speakers, they've gathered some of the finest sponsors in the cannabis industry and beyond. Most notably, that includes the platinum sponsors, MediaJel and Wes Martin Cannabis. Other sponsors include Big Rock, Blaze, Green Sky Strategy, New Frontier Data and CannabisNewsWire. These and other sponsors help make this fantastic conference possible!
New West Summit is called THE Cannabis tech conference for a reason: they value quality over quantity. By limiting the conference to a mere two days and packing it full of speakers who represent the forefront of the cannabis industry, guests are provided incredible ROI. Act now to secure a spot at this convergence of talented minds and industry leaders.
New West Summit 2019
October 10-11, 2019
San Francisco, California
CONFERENCE REGISTRATION
---
Conference Highlights
THE cannabis tech conference to attend this year, with a focus on quality over quantity.
A two-day event, October 10-11, 2019, set in San Francisco.
Hosted in the gorgeous Bespoke Event Center, which is in the middle of San Francisco's Financial District.
Features 50 exhibitors and over 100 speakers!
New West Summit plays as hard as they work, providing parties both nights of the event for guests to unwind and network.
Experience the Leafwire Pitch Slam, which pits cannabis start-ups against each other as they pitch to industry professionals!