When you join a combat arms Military Occupational Specialty (MOS), you don't think as much about the things you bring back when you return. When I joined as a 19D (Cavalry Scout) in 2005, I quickly found myself in line for a combat deployment to Iraq. My unit and I thought a lot about our training, fellow soldiers, our mission and what combat might entail. We wrestled with how we would perform under fire, what we would do if we were maimed or disabled, and how to write a will at an age when we weren't even legally allowed to enjoy a beer.
For those of us who saw combat and were lucky enough to return – combat related disabilities became our new reality far too often for comfort. Beyond the initial shock of returning to civilization, many of us faced PTSD, night terrors, and overwhelming stress and anxiety. Many of us also begin to deal with the realities of degenerative arthritis, damaged joints, tinnitus, and a myriad of other scars we wore after serving our country.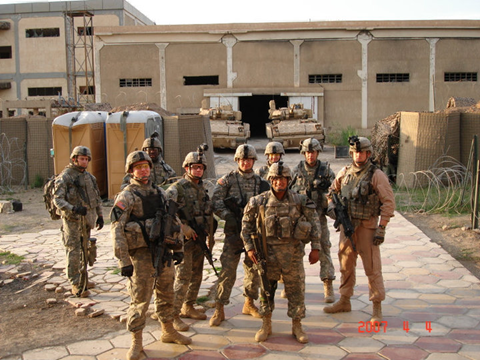 The lifetime prevalence of PTSD is ~10.1% for veterans of the Gulf War and the current prevalence is ~13.8% for veterans of Operation Enduring Freedom/Operation Iraqi Freedom.  (Source: U.S. Department of Veterans Affairs. Epidemiology of PTSD).
This says nothing about pain, insomnia, anxiety or depression, let alone opioid addiction and alcoholism – all more prevalent in veterans than in the general population.
Cannabis is proven to be highly effective at addressing pain, insomnia, anxiety, depression, alcohol and opioid addiction; many of the very issues us veterans face once we return home.
While any amount of THC in your system will get you dishonorably discharged from the US military, the Canadian government has the following to say about cannabis and veterans:
"The health and well-being of Veterans is a top priority for the Government of Canada. This was the fundamental consideration in the development of VAC's new reimbursement policy for cannabis for medical purposes.
The reimbursement policy on cannabis for medical purposes became effective on 22 November 2016. The policy establishes a reimbursement limit of three grams per day of cannabis for medical purposes sold by licensed producers or its equivalent in fresh marijuana or cannabis oil."
Cannabis may not be the right answer for every returning veteran, but it certainly helps many of the very issues us combat veterans experience when we return home from deployment.
After my combat deployment I returned to Texas and realized how difficult it was to relate to those around me. I felt pain. I couldn't sleep. I felt isolated and alienated. Most of us drank ourselves to sleep, the common legal remedy at the time. I had been gifted a Possession of Marijuana ticket at the age of 18 and I wasn't keen to take that risk again. Having a bag of plant leaves had landed me in a Texas jail, the day before Christmas.
It wasn't until after my 3 years in the US Army Reserves were complete and after I had become desperate for an alternative to alcohol that I risked using cannabis again. That was also when my life began to change, and when my love for cannabis grew into an immense passion. In 2018, I took an opportunity to learn how to cultivate cannabis in the budding Canadian market.
Today, I run Fast Flower Farms, a cannabis cultivation and extraction business, in Bay City, Michigan. As a combat disabled veteran and the CEO of a cannabis business – I know that supporting veterans means supporting us not just at war, but also at home. I also know that unconditional love and support includes supporting access to healing plant-based medicines such as cannabis.
I believe we will see more veteran-owned cannabis companies and more cannabis companies supporting veterans in the years ahead. I also believe that cannabis will be seen as a legitimate solution to many of the ailments veterans like me have and continue to face. It remains my hope that veteran owned companies are supported with the pride and intention each of us brings to supporting the freedoms we enjoy as a nation.
Support your veterans, support cannabis.
This is my story, thank you for reading it – Nate Niehuus
Nate Niehuus is a combat veteran of Operation Enduring Freedom and the Founder/CEO of Fast Flower Farms – an artisan cannabis company that operates in the Michigan market. Click HERE for further information on how you can participate.
About CannabisNewsWire
CannabisNewsWire (CNW) is an information service that provides (1) access to our news aggregation and syndication servers, (2) CannabisNewsBreaks that summarize corporate news and information, (3) enhanced press release services, (4) social media distribution and optimization services, and (5) a full array of corporate communication solutions. As a multifaceted financial news and content distribution company with an extensive team of contributing journalists and writers, CNW is uniquely positioned to best serve private and public companies that desire to reach a wide audience of investors, consumers, journalists and the general public. CNW has an ever-growing distribution network of more than 5,000 key syndication outlets across the country. By cutting through the overload of information in today's market, CNW brings its clients unparalleled visibility, recognition and brand awareness. CNW is where news, content and information converge.
To receive instant SMS alerts, text CANNABIS to 21000 (U.S. Mobile Phones Only)
For more information please visit https://www.cannabisnewswire.com
Please see full terms of use and disclaimers on the CannabisNewsWire website applicable to all content provided by CNW, wherever published or re-published: http://CNW.fm/Disclaimer
Do you have questions or are you interested in working with CNW? Ask our Editor
CannabisNewsWire (CNW)
Denver, Colorado
www.cannabisnewswire.com
303.498.7722 Office
Editor@CannabisNewsWire.com
CannabisNewsWire is part of the InvestorBrandNetwork.
Third-Party Content
The CNW website may contain Third-Party Content articles and other content submitted by third parties, including articles submitted through the CNW Premium Partnership Program. All opinions, statements and representations expressed by such third parties are theirs alone and do not express or represent the views and opinions of CNW or its affiliates and owners. Content created by third parties is the sole responsibility of such third parties, and CNW does not endorse, guarantee or make representations concerning the accuracy and completeness of any third-party content. You acknowledge that by CNW providing you with this internet portal that makes accessible to you the ability to view third party content through the CNW site, CNW does not undertake any obligation to you as a reader of such content or assume any liability relating to such third-party content. CNW expressly disclaims liability relating to such third-party content. CNW and its members, affiliates, successors, assigns, officers, directors, and partners assume no responsibility or liability that may arise from the third-party content, including, but not limited to, responsibility or liability for claims for defamation, libel, slander, infringement, invasion of privacy and publicity rights, fraud, or misrepresentation, or an private right of action under the federal securities laws of the United States or common law. Notwithstanding the foregoing, CNW reserves the right to remove third-party content at any time in its sole discretion. By viewing this third-party content, you acknowledge that you have viewed, read fully, accepted and agreed to all terms of the Disclaimer at https://www.cannabisnewswire.com/disclaimer.