Women working in cannabis and Psychedelics celebrate International Women's Day with virtual networking event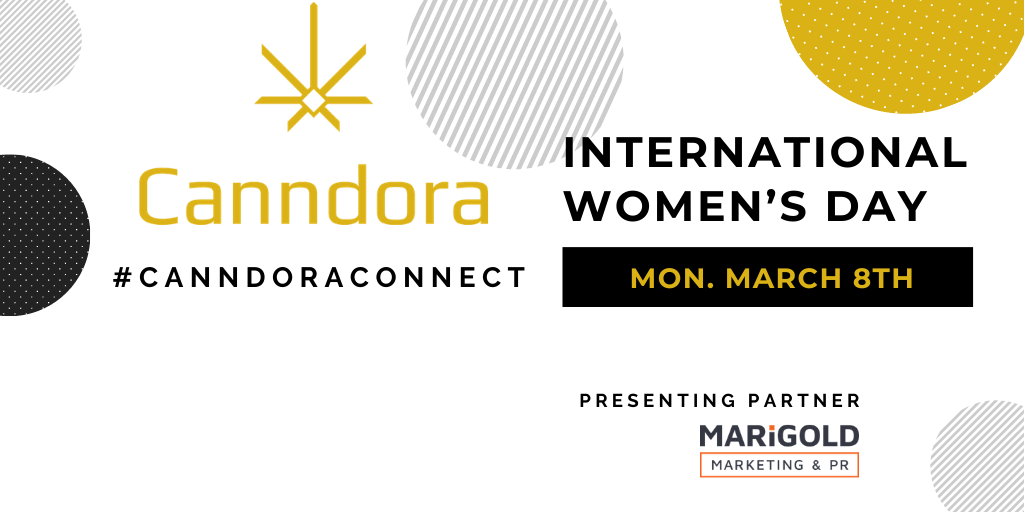 Canndora, the global media and event platform, and initiative created by Marigold Marketing & PR to support advancing women in emerging industries has announced it is hosting #CanndoraConnect: International Women's Day.
A virtual event, #CanndoraConnect: International Women's Day, is open to audiences worldwide and will take place 2:00-4:30 p.m. EST on Monday, March 8th, 2021. The event will offer attendees a unique experience, providing collaboration, networking, inspiration, and advice for women's success in the emerging cannabis and psychedelics industries worldwide.
"We're thrilled to be hosting our second annual International Women's Day #CanndoraConnect. Through our events we've been able to profile about two hundred women in the cannabis industry and provide meaningful networking opportunities to over 2,000 women globally. " Katie Pringle, Co-Founder & CEO Marigold Marketing & PR
Attendees will hear from influential speakers and network with leading industry experts in cannabis and psychedelics. The event will feature notable industry professionals and panelists who will share their expertise. They will be discussing critical topics such as bringing cannabis products to market and the science behind cannabis and psychedelics; and its role in women's health.
Industry leaders and speakers in attendance include:
Tijen Talchin and Ashley Short, Co-Founders Earth Kisses Sky
Sabrina Ramkellawan, COO & Co-Founder, Knowde Group Inc. & President, Clinical Research Association of Canada
Ashley Athill, CEO, HRVSTR
Dr. Olga Chernoloz, Chief Scientific Officer, Wake Network
Terri Smith, CEO, Wake Jamaica LTD.
Susan Chapelle, COO of Purdenza
Trina Fraser, Partner, Brazeau Seller Law
Nicole Giffen, Director of Merchandising, Fire & Flower
Lula Fukar, Founder, Cori
Bridget Hoffer, Co-Founder and CSO, Marigold Marketing & PR
"I'm thrilled to be participating in another #CanndoraConnect event to discuss plant medicine and how psychedelic compounds are helping humans to thrive and overcome challenges. Cannabis and Psychedelics are a large part of my personal and professional life, it's great to be able to connect and learn from other like minded women in the industry" Susan Chapelle,  COO of Purdenza
Now hosting its eighth professional event for emerging cannabis and psychedelic industries, tickets for the last WWC Conference sold-out. Previously, #CanndoraConnect focused on Women and Psychedelics which hailed success. The event is made possible with support from our media partners, Cannabis Prospect Magazine, CannabisNewsWire, CFN Media Group, PsyIndex, Cannabis Retailer and PsychedelicNewswire.
The #CanndoraConnect: International Women's Day event is open to anyone 19+. Attendees are encouraged to register as soon as possible as spaces are limited. To purchase tickets, register on Eventbrite.
For media and partner inquiries, contact Danielle McKay, Marketing & Media Executive at danielle@marigoldpr.com or 905-808-7230.
About Canndora
Canndora is an educational and events platform connecting, activating & celebrating women in emerging industries. Launched in 2017, Canndora connects women and cannabis through events, content and conversation. www.canndora.com
About Marigold Marketing & PR
Marigold Marketing & PR is an award-winning marketing and PR firm for licensed producers and national brands. Marigold offers full-service packages to clients that include branding, social media, PR and publicity and integrated marketing. Marigold creates results-driven marketing campaigns of all sizes, leveraging paid, owned and earned media. Marigold makes an impact for clients through awareness-building campaigns, industry focus and excellent service. Learn more about Marigold's all-encompassing services here.