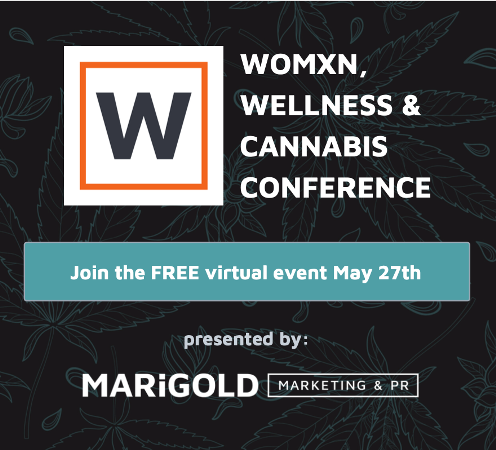 Award-winning global cannabis PR firm, Marigold PR, has opened online registrations for the first-ever virtual global Womxn, Wellness & Cannabis Conference (WWC Conference) taking place on Wednesday, May 27, 2020. The conference is free to attend and open to anyone who is working or interested in working in the cannabis industry.
The WWC Conference brings together womxn in cannabis and top industry experts from around the world for a day of networking, collaboration and learning in a fun and engaging online environment where attendees will gain valuable industry insights and access to professional opportunities. Marigold PR transformed the WWC Conference into an online-only event utilizing leading-edge technological resources, digital, and creative expertise.
"We are collaborating with our stakeholders and partners to provide an inclusive, collaborative and forward-looking conference for the cannabis industry," says Katie Pringle, co-founder of Marigold PR. "We are inviting the global cannabis industry to participate in the WWC Conference to network and learn to support moving businesses forward."
The WWC Conference celebrates the feminine cannabis experience, providing unique opportunities to network and collaborate with industry innovators worldwide. Attendees will meet with top cannabis brands and industry leaders, plus discuss hot industry topics like leadership, cultivation, and marketing within the regulatory environment.
Attendees will engage in live online panels, keynote speaking engagements, and networking opportunities through live chats, real-time question and answer periods, and meaningful online facetime. Participants will also gain firsthand insights into the latest industry trends and innovations from over 40 prominent industry leaders from around the world including the U.S., Canada, Switzerland, Ireland, UK, and more.
WWC Conference is pleased to have over 20 event partners; media partners include Detonate Cannabis Agency, Grow Opportunity, CFN Media Group, CannabisNewsWire, Cannabis Prospect Magazine, The Rise, Canndora and The Her(B) Life. Community partners include Prohibition Partners Live, Shatterizer, Cori, Weed Mama, CanWeedine, Grow Sisters, Kelsey Cannabis, Mimi Cannabis, Alpha Woman, entOURage Network, and Symposia. Opportunities are still available for media and community partners.
Register now for the free WWC Conference at https://wwcconference.com/. Follow WWC Conference on Twitter and Instagram for the latest updates.
For more media inquiries or more information contact Danielle Mckay, Marketing & Media Coordinator at danielle@marigoldpr.com
About Marigold Marketing & PR
Marigold Marketing & PR is an award-winning marketing and PR firm for licensed producers and national brands. Marigold offers full-service packages to clients that include branding, social media, PR and publicity and integrated marketing. Marigold creates results-driven marketing campaigns of all sizes, leveraging paid, owned and earned media. Marigold makes an impact for clients through awareness-building campaigns, industry focus and excellent service. Learn more about Marigold's all-encompassing services here.