Calling cannabis brands, retailers and budtenders to join in on the fun!
Tether wants to invite you to help celebrate budtenders across the nation during Budtender Appreciation Week, coming March 20-26, 2023. The week-long event will bring together budtenders, retailers, and brands from across Canada to show budtenders how grateful we all are for their contribution and dedication to the cannabis industry.
"B-Week puts budtenders, the face of the cannabis industry, front and centre. Activating nationally, we're bringing the industry together to recognize, reward and engage Budtenders across Canada" says Marigold PR Co-Founder and CEO Katie Pringle.
Tether events promise enjoyable experiences that go beyond education and networking, and Budtender Appreciation Week is no exception. The week will provide budtenders and retailers access to events and experiences including virtual cannabis facility tours, education panels, and an in-person networking event at CannExpo, sponsored by CannMart & Roilty as well as grant them the opportunity to win great rewards and prizes for their dedication and participation.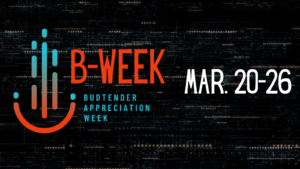 Tether, presented by Marigold PR, is a community that activates budtenders and cannabis retailers; it offers impactful partnerships for brands that want to make an impression with budtenders. Budtenders have told us they are looking for meaningful brands to recommend to their customers. Tether industry events bridge the gap and help to build those meaningful relationships.
B-Week is backed by an advisory committee of passionate budtenders and cannabis retailers and are proud to partner with CannExpo, Habitat, Shatterizer, Stewart Farms, Astronaut and Craft Cannabis Co-Packing Group, as well as our Media Partners; Grow Opportunity, ADCANN, Canadian Evergreen and CannabisNewswire.
Participation opportunities are still available for B-Week 2023, want to show budtenders some love and get involved? Reach out to Marigold PR at info@marigoldpr.com for opportunities.
A schedule of events will be made available shortly. Tether can't wait to celebrate all the hardworking budtenders March 20-26 and hope you'll join us. Don't forget to tip your budtenders and we'll see you at B-Week!