Award-winning cannabis marketing and PR firm, Marigold PR, announces the second annual Womxn, Wellness and Cannabis Conference (WWC Conference) will take place May 26 – 27, 2021.
As the largest free global event connecting women in cannabis and psychedelics, the WWC Conference provides a unique opportunity to network with, and learn from, industry trailblazers in an inclusive, fun and educational online environment. This year's conference will feature a series of expert panel discussions, keynotes and live Q&As, led by female thought leaders from across the emerging markets.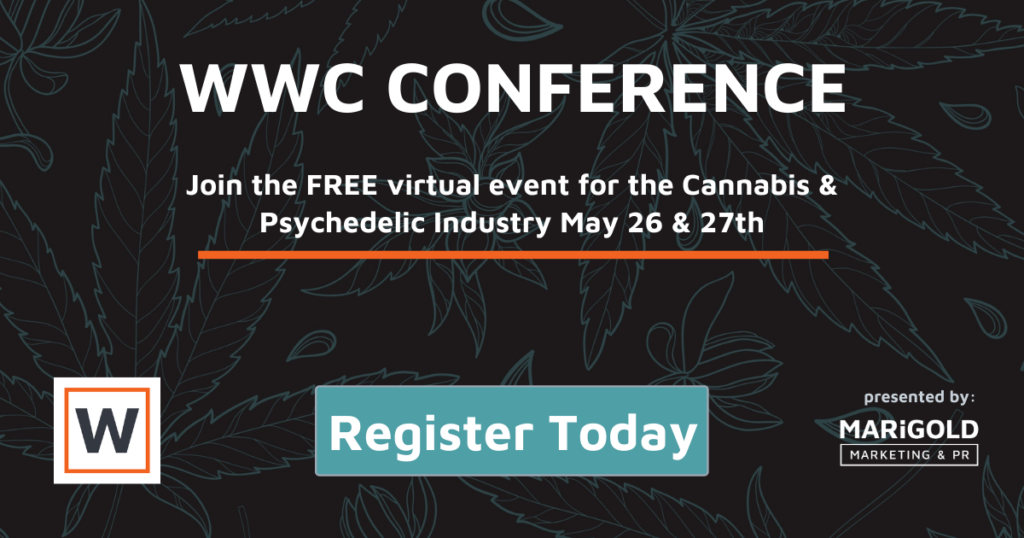 Hosted in celebration of the feminine cannabis and psychedelic experience, the virtual conference is a must-attend event for professionals in the space and will cover pertinent topics such as women in leadership, mental health, science and research, product development and compliant marketing. The conference is spearheaded by Marigold PR with support from an advisory committee of industry experts, including:
Trina Fraser, Partner at Brazeau Seller Law and head of CannaLaw® group
Mimi Lam, Chief Executive Officer and Co-Founder of Superette
Ulla Haaning Singapuri, Chief Strategy Officer at KannaSwiss
Dr. Jenna Valleriani, Director of Patient Advocacy at Canopy Growth Corporation
Salimeh Tabrizi, Founding Member of Canadian Psychedelic Association
Co-Founder of Marigold PR and WWC Conference, Katie Pringle, says, "Following the groundbreaking success of the inaugural event, which attracted a thousand participants worldwide, we're delighted WWC Conference is returning in 2021. We have been working hard all year to build an impactful conference for women by women, which provides a much needed platform to connect, collaborate and inspire one another. Diversity remains a major concern in cannabis and psychedelics, so it's a pleasure and a privilege to create a dedicated space for female-led discussions".
WWC Conference is made possible through media partnerships across the cannabis and psychedelic industries, with CFN Media Group, PsyIndex, CannabisNewswire, PsychedelicNewswire, Truffle Report, Cannabis Retailer, StratCann and Cannabis Prospect Magazine supporting this year's event. If you would like to become a media partner, please email danielle@marigoldpr.com.
The conference provides attendees, partners and speakers an unparalleled opportunity to build awareness and forge relationships with industry influencers. Those interested in attending this year's event can register here, speaker and partnership applications are also now open.
For more information please visit https://wwcconference.com, or contact Marigold's Trade Marketing and PR Executive, Danielle McKay, at danielle@marigoldpr.com.
About Marigold Marketing & PR
Marigold Marketing & PR is an award-winning marketing and PR firm for licensed producers and national brands. Marigold offers full-service packages to clients that include branding, social media, PR and publicity and integrated marketing. Marigold creates results-driven marketing campaigns of all sizes, leveraging paid, owned and earned media. Marigold makes an impact for clients through awareness-building campaigns, industry focus and excellent service. Learn more about Marigold's all-encompassing services here.
About Womxn, Wellness and Cannabis Conference
The Womxn, Wellness and Cannabis Conference is the largest free global conference connecting womxn in cannabis and psychedelics.  Presented by Marigold Marketing & PR, the event brings industry professionals together to network, connect and inspire, in celebration of the feminine cannabis and psychedelics experience. For more information, please visit the website.